APC LSW1200 – 600 Watt
Automatic voltage regulation for protection against brownouts and over voltages. It protects your sensitive electronic equipment from brownouts (under voltages) and over voltages with APC Line-R automatic voltage stabilizer. Uncorrected voltage fluctuations gradually degrade the life of electronic components, potentially causing premature failure. The APC LSW1200 not only adjusts voltages to safe levels, but also provides surge protection against electrical surges and spikes – even lightning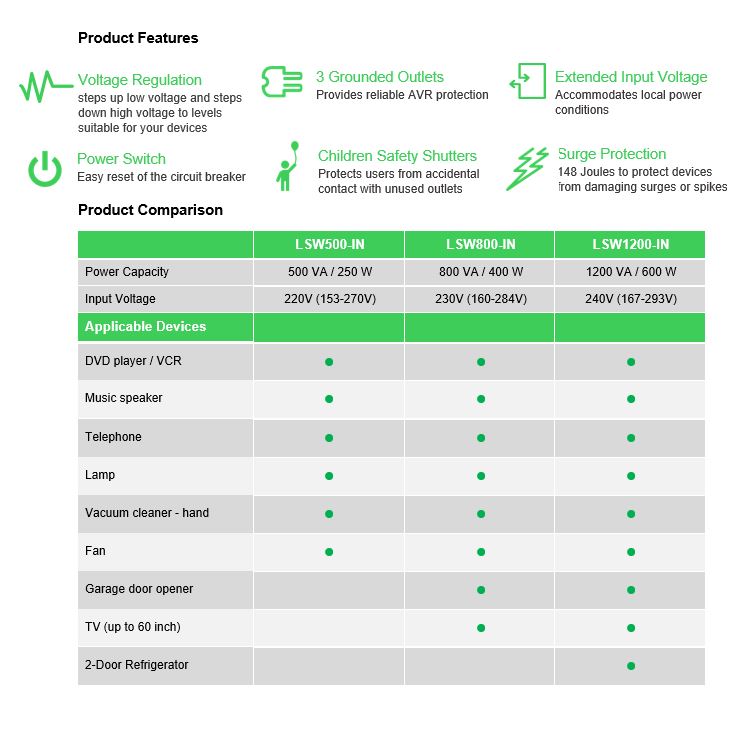 | | |
| --- | --- |
| Technical Specifications | LSW1200-IN |
| Brand | APC |
| Model | LSW1200-IN |
| Output Power Capacity | 600 Watt / 500 VA |
| Output Sockets | (3) India 2/3-pin 6A (Surge Protection) |
| Input frequency | 50 Hz +/- 5 Hz |
| Input voltage range for main operations | 160 – 285 V |
| Number of Power Cords | 1 |
| Surge energy rating | 148 Joules |
| Physical Dimension (WxDxH) | 210x132x110 mm |
| Net Weight | 3.05 Kg. |
| Color | Black |
| Operating Temperature | 0 – 40 °C |
| Storage Relative Humidity | 0 – 90 % |
| Audible noise at 1 meter from unit | 40 dBA |
| Standard warranty | 2 years repair or replace |
| RoHS | Compliant |
| BIS | BIS Certified |
Why do you need a voltage stabilizer?
Erratic power supply can be a major inconvenience in your home and office. Fluctuations in power may cause lights to flicker and appliances to turn off unexpectedly.
Uncorrected voltage fluctuations degrade the life of your devices, potentially causing premature equipment failure.
A voltage stabilizer is designed to adjust voltages to levels suitable to your devices and provide surge protection against electrical surges, spikes and lightning
APC Voltage Stabilizer for Home Devices (LSW1200-IN)
Protect sensitive home devices from unstable power conditions and prolong the lifespan of the devices with the voltage stabilizer from APC by Schneider Electric, the global leader in power protection for home & business
LSW1200-IN at a Glance:
Ideal for TV, home entertainment system and 2-door refrigerator
Steps up low voltage and steps down high voltage to levels suitable for your devices
Input voltage range:167V to 293V
148 Joules of surge protection against damaging surges or spikes
2-year warranty
Where to use a voltage stabilizer?
At Home
Don't let unstable power conditions interrupt your comfort at home. Protect your TV, entertainment system, refrigerator and other home devices with the APC voltage stabilizer.
At the Office
Stay in your flow without the harsh impact of power instability on your office electronics.